Perancangan dan Implementasi Sistem Informasi Geografis Pemetaan Rumah Makan Vegeraian Menggunakan Metode Djikstra
Okky Putra Barus

Universitas Pelita Harapan

Jesselyn Verina William

Universitas Pelita Harapan
Abstract
Health is an important thing that must be maintained because having a healthy body can support a person in carrying out various activities without any obstacles. Many types of diseases that have emerged in the modern era are influenced by many factors, one of which is an unhealthy lifestyle, namely consuming too much unhealthy food, causing obesity, one of which is animal meat. Vegetarian food can be used as the right solution as a healthy food in order to minimize the risk of disease and can also be used as food for a healthy diet pattern in order to prevent obesity. Based on the results of a survey conducted by people who consume vegetarian food, there are several problems in finding vegetarian restaurants, such as information on vegetarian restaurants that are difficult to obtain and the use of applications in searching for vegetarian restaurants that do not provide detailed information. Because of these problems, a Geographic Information System (GIS) will be built that maps vegetarian restaurants using the Google Maps API. In this study, a combination of two methods will be implemented, namely the Haversine and Djikstra methods in GIS which were built to provide recommendations for the nearest vegetarian restaurant for customers. The test results obtained concluded that the Geographic Information System that was built was effective in helping users find the location of vegetarian restaurants in the city of Medan.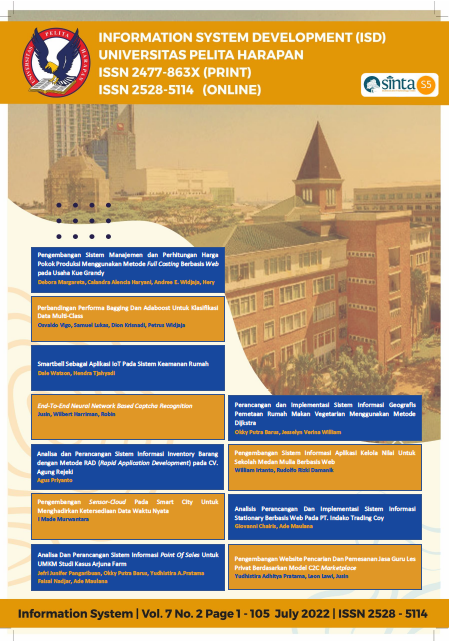 Penulis yang menerbitkan jurnal ini menyetujui persyaratan berikut:
Penulis memiliki hak cipta dan memberikan hak untuk publikasi pertama jurnal dengan karya yang secara simultan dilisensikan di bawah Creative Commons Attribution License yang memungkinkan orang lain untuk berbagi karya dengan pengakuan kepengarangan karya dan publikasi awal dalam jurnal ini.
Penulis dapat membuat perjanjian kontrak tambahan yang terpisah untuk distribusi non-eksklusif versi jurnal yang diterbitkan dari karya tersebut (misalnya, mempostingnya ke repositori institusional atau menerbitkannya dalam sebuah buku), dengan pengakuan atas publikasi awalnya di jurnal ini.
Penulis diizinkan dan didorong untuk memposting karya mereka secara online (misalnya, dalam repositori institusional atau di situs web mereka) sebelum dan selama proses pengajuan, karena dapat menyebabkan pertukaran yang produktif, serta kutipan yang lebih awal dan lebih besar dari karya yang diterbitkan (Lihat Pengaruh Akses Terbuka).