Pengembangan Sensor-Cloud pada Smart City untuk Menghadirkan Ketersediaan Data Waktu Nyata
I Made Murwantara

Universitas Pelita Harapan
Abstract
A Smart-City development and operation highly depends on more than one group of real-time data sources. Such data integration might be achieved via Sensor- Fusion management. The main resources to this is a reliable virtual sensors cluster that adaptive to environment change such as data feeding disruption. A stability sensor network operation should be put forward as the system will rely on such condition. However, an integrated complex real-time system usually has also some kind of deviation factors as a result of unstable data streaming. In this work, we come up with the idea of Sensor-Cloud which provides real-time data streaming services with virtual environment in mind. A combination of Cloud Computing, Internet of Things and Data Acquisition is the core concept to the proposed approach. To support our proposed approach, a simplified demonstration shall be provided to show the capability of our method.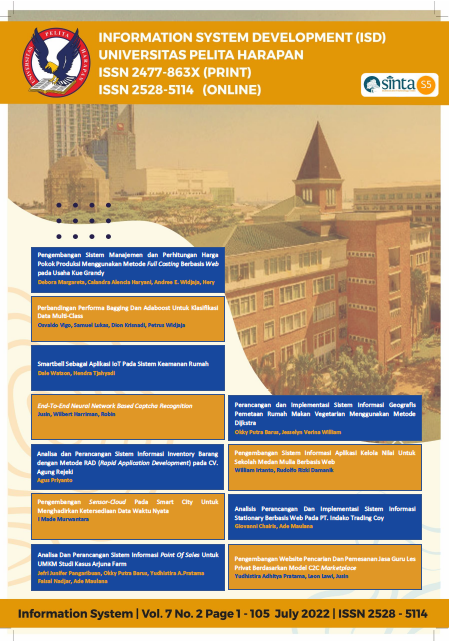 Penulis yang menerbitkan jurnal ini menyetujui persyaratan berikut:
Penulis memiliki hak cipta dan memberikan hak untuk publikasi pertama jurnal dengan karya yang secara simultan dilisensikan di bawah Creative Commons Attribution License yang memungkinkan orang lain untuk berbagi karya dengan pengakuan kepengarangan karya dan publikasi awal dalam jurnal ini.
Penulis dapat membuat perjanjian kontrak tambahan yang terpisah untuk distribusi non-eksklusif versi jurnal yang diterbitkan dari karya tersebut (misalnya, mempostingnya ke repositori institusional atau menerbitkannya dalam sebuah buku), dengan pengakuan atas publikasi awalnya di jurnal ini.
Penulis diizinkan dan didorong untuk memposting karya mereka secara online (misalnya, dalam repositori institusional atau di situs web mereka) sebelum dan selama proses pengajuan, karena dapat menyebabkan pertukaran yang produktif, serta kutipan yang lebih awal dan lebih besar dari karya yang diterbitkan (Lihat Pengaruh Akses Terbuka).