Analisa dan Perancangan Sistem Informasi Inventory Barang dengan Metode RAD (Rapid Application Development) pada CV. Agung Rejeki
Agus Priyanto

IT Telkom Purwokerto
Abstract
CV. Agung Rejeki is a company engaged in the provision of building equipment. Currently, recording inventory reports at CV. Agung Rejeki is not yet optimal, causing the company's performance to be hampered. The purpose of the results of this study is to create a basic framework for a computer-based Inventory Information System to help business processes at CV. Agung Rejeki and provides information in the form of views and reports that are appropriate and integrated in each unit in the CV. Great Fortune. RAD is a method of developing information systems with a relatively short time. In normal information system development, it takes a minimum of 180 days, but using the RAD method, the system can be built in 30-90 days. By applying the RAD (Rapid Application Development) model to a computerized inventory system that is also equipped with a visual basic programming language and a crystal report, it can help in making quick decisions. Data modeling architecture that defines 7 tables, defines 3 entities involved in the inventory process of goods in CV. Agung Rejeki, namely Administrators, Employees, Sales. Furthermore, the use of the RAD (Rapid Application Development) model to realize an inventory information system can provide optimal results. The system has got its interests, the inventory data manager and responds to the needs of consumers to obtain information.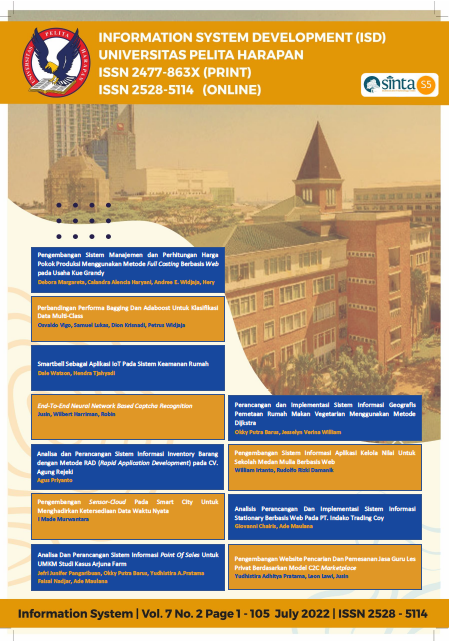 Penulis yang menerbitkan jurnal ini menyetujui persyaratan berikut:
Penulis memiliki hak cipta dan memberikan hak untuk publikasi pertama jurnal dengan karya yang secara simultan dilisensikan di bawah Creative Commons Attribution License yang memungkinkan orang lain untuk berbagi karya dengan pengakuan kepengarangan karya dan publikasi awal dalam jurnal ini.
Penulis dapat membuat perjanjian kontrak tambahan yang terpisah untuk distribusi non-eksklusif versi jurnal yang diterbitkan dari karya tersebut (misalnya, mempostingnya ke repositori institusional atau menerbitkannya dalam sebuah buku), dengan pengakuan atas publikasi awalnya di jurnal ini.
Penulis diizinkan dan didorong untuk memposting karya mereka secara online (misalnya, dalam repositori institusional atau di situs web mereka) sebelum dan selama proses pengajuan, karena dapat menyebabkan pertukaran yang produktif, serta kutipan yang lebih awal dan lebih besar dari karya yang diterbitkan (Lihat Pengaruh Akses Terbuka).