Smartbell Sebagai Aplikasi IoT Pada Sistem Keamanan Rumah
Dale Watson

Hendra Tjahyadi

Magister Informatika, Universitas Pelita Harapan
Abstract
In this paper, a smart bell system is designed and realized. The system uses a passive-infrared sensor to detect motion and activate the system to logged detection time to database, sent notification, and command a webcam to take pictures and record video. An Arduino microcontroller is used to process data that will be presented on web pages which are then converted into Progressive Web Applications. Node.js is used as the platform to creare a server, and  MongoDB is employed as database for time detection. For communication system protocol between the database and web application pages the REST-API method is used. During the detection process, the system will send a notification using webpush with the Firebase Cloud Messanging framework. The system was tested to detect, record videos, create GIFs, write to databases, and send notifications into web applications. The experiments shows a success of 81.25% for displaying videos and  of 93.75%  for displaying GIFs.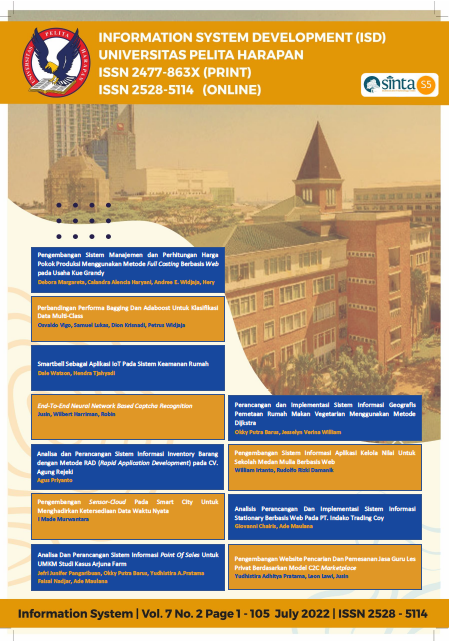 Penulis yang menerbitkan jurnal ini menyetujui persyaratan berikut:
Penulis memiliki hak cipta dan memberikan hak untuk publikasi pertama jurnal dengan karya yang secara simultan dilisensikan di bawah Creative Commons Attribution License yang memungkinkan orang lain untuk berbagi karya dengan pengakuan kepengarangan karya dan publikasi awal dalam jurnal ini.
Penulis dapat membuat perjanjian kontrak tambahan yang terpisah untuk distribusi non-eksklusif versi jurnal yang diterbitkan dari karya tersebut (misalnya, mempostingnya ke repositori institusional atau menerbitkannya dalam sebuah buku), dengan pengakuan atas publikasi awalnya di jurnal ini.
Penulis diizinkan dan didorong untuk memposting karya mereka secara online (misalnya, dalam repositori institusional atau di situs web mereka) sebelum dan selama proses pengajuan, karena dapat menyebabkan pertukaran yang produktif, serta kutipan yang lebih awal dan lebih besar dari karya yang diterbitkan (Lihat Pengaruh Akses Terbuka).