PREDIKSI KESEMBUHAN PASIEN COVID-19 DI INDONESIA MELALUI TERAPI MENGGUNAKAN METODE NAÏVE BAYES
Okky Putra Barus

Anton Tehja

Universitas Pelita Harapan
Abstract
This study aims to predict the recovery of COVID-19 patients in Indonesia by using Data Mining calculations. The method used to predict the recovery of COVID-19 patients is the Naïve Bayes method. The collection of datasets through trusted sources, the NIHR Innovation Observatory and datasets on an international/global scale, totaling 367 pieces of raw data that have not been filtered. After conducting the data feasibility test, the remaining 286 pieces of data will be divided into 70% of training data of 200 pieces of data and 30% of testing data of 86 pieces of data. Based on the test results, the use of the Naïve Bayes method in predicting the recovery of COVID-19 patients obtained an Accuracy of 96.51%, a Success Precision (Yes) of 100% and a Failure (No) of 95.71%, and a Success Sensitivity (Yes) of 84.21% and Failed (No) by 100%. Therefore, it is concluded that calculations using the Naïve Bayes method in this study will produce an accuracy rate of COVID-19 recovery of 96.51%, which means that the results of the predictions' calculation of success and failure in a therapy given to patients can be accounted for as data reference in a more detailed subsequent research..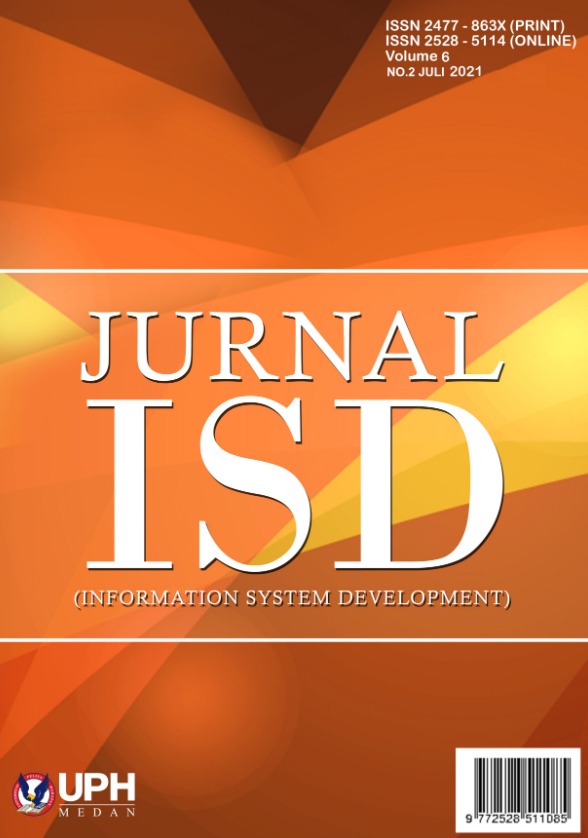 How to Cite
BARUS, Okky Putra; TEHJA, Anton. PREDIKSI KESEMBUHAN PASIEN COVID-19 DI INDONESIA MELALUI TERAPI MENGGUNAKAN METODE NAÏVE BAYES.
Journal Information System Development (ISD)
, [S.l.], v. 6, n. 2, p. 59 - 66, july 2021. ISSN 2528-5114. Available at: <
https://ejournal-medan.uph.edu/index.php/isd/article/view/460
>. Date accessed: 28 nov. 2022.
Penulis yang menerbitkan jurnal ini menyetujui persyaratan berikut:
Penulis memiliki hak cipta dan memberikan hak untuk publikasi pertama jurnal dengan karya yang secara simultan dilisensikan di bawah Creative Commons Attribution License yang memungkinkan orang lain untuk berbagi karya dengan pengakuan kepengarangan karya dan publikasi awal dalam jurnal ini.
Penulis dapat membuat perjanjian kontrak tambahan yang terpisah untuk distribusi non-eksklusif versi jurnal yang diterbitkan dari karya tersebut (misalnya, mempostingnya ke repositori institusional atau menerbitkannya dalam sebuah buku), dengan pengakuan atas publikasi awalnya di jurnal ini.
Penulis diizinkan dan didorong untuk memposting karya mereka secara online (misalnya, dalam repositori institusional atau di situs web mereka) sebelum dan selama proses pengajuan, karena dapat menyebabkan pertukaran yang produktif, serta kutipan yang lebih awal dan lebih besar dari karya yang diterbitkan (Lihat Pengaruh Akses Terbuka).