FUZZY LOGIC UNTUK MENENTUKAN PENJUALAN RUMAH DENGAN METODE MAMDANI (STUDI KASUS: PT GRACIA HERALD)
Abstract
The house is one of the basic needs for human beings. Along with the growth in population, housing needs increase. This is evidenced by the proliferation of complex construction of housing, especially in big cities are densely populated as the city of Batam. However, during PT Gracia Herald stands, the company is very difficult to see an increase or decrease in home sales per month of annual data, Fuzzy Logic to determine home sales methods mamdani is one method that can be applied both in the field determine home sales in PT Gracia Herald, Data collection techniques used by investigators are interviewing techniques, documentation studies, and literature. Steps being taken in this study started from processing of data per month in each year, the establishment of fuzzy set, forming a fuzzy rules, fuzzy inference models, assertion (defuzzification). Testing the system uses existing home sales data out of the twelve months in a year, defining the membership function in this study using triangular and trapezoidal curve with rule number seventy-nine rules. The result in April, June and November are sales rose.
 
Keywords: Home Sales, Fuzzy Logic, Mamdani Methods, MATLAB.
References
Andani, Sandari Retno (2013). Fuzzy Mamdani Dalam Menentukan Tingkat Keberhasilan Dosen Mengajar. ISSN: 1979-2328.
Azizah, Evi Nur (2015). Optimasi Fungsi Keanggotaan Fuzzy Tsukamoto Menggunakan Algoritma Genetika Untuk Penentuan Harga Jual Rumah. Volume 02 Nomor 02. 23563109.
Bastiah (2013). Sistem Pendukung Keputusan Untuk Menentukan Pembelian Rumah Dengan Menggunakan Metode Fuzzy C-Means (Fcm) Clustering. Volume 5 Nomor 1. 23019425.
Budiharto, Widodo dan Derwin Suhartono. (2014). Artifikal intelligence konsep dan penerapannya, Andi offset, yogyakarta.
Darmadi Hamid (2011). Metode Penelitian Pendidikan, Alfabeta, Bandung.
Kusumadewi, Sri dan Purnomo, Hari. (2010). Aplikasi Logika Fuzzy Untuk pendukung Keputusan. Graha Ilmu. Yogyakarta.
Laily Oktaviani (2014). Sistem Penentuan Perhitungan Jumlah Produksi Folding Gate Menggunakan Fuzzy Logic Pada PT. Jihan Jaya. Volume 1 Nomor 1. 2406-7768.
Maryaningsih dkk (2013). Implementasi Logika Fuzzy Dalam Perancangan Sistem Pengambilan Keputusan Usulan Pemasangan Listrik Berdasarkan Distribusi Beban Listrik. Volume 9 Nomor 2. 1858 – 2680.
Nazir Moh (2011). Metode Penelitian, Ghalia Indonesia, Bogor.
Sugiyono (2012). Metode Penelitian Kuantitatif, kualitatif dan R&D, Cetakan Ke-20, Alfabeta, Bandung. Naba, Agus. (2009). Belajar Cepat Fuzzy Logic Menggunakan Matlab. Andi. Yogyakarta.
Sugiyono (2012). Metode Penelitian Bisnis, Alfabeta CV, Bandung.
Sugiyono (2012). Metode Penelitian Kuantitatif, Kualitatif dan R & D. Alfabeta. Bandung
Suyanto (2011). Artifikal intelligence searching reasoning planning learning. edisi repisi . Informatika Bandung.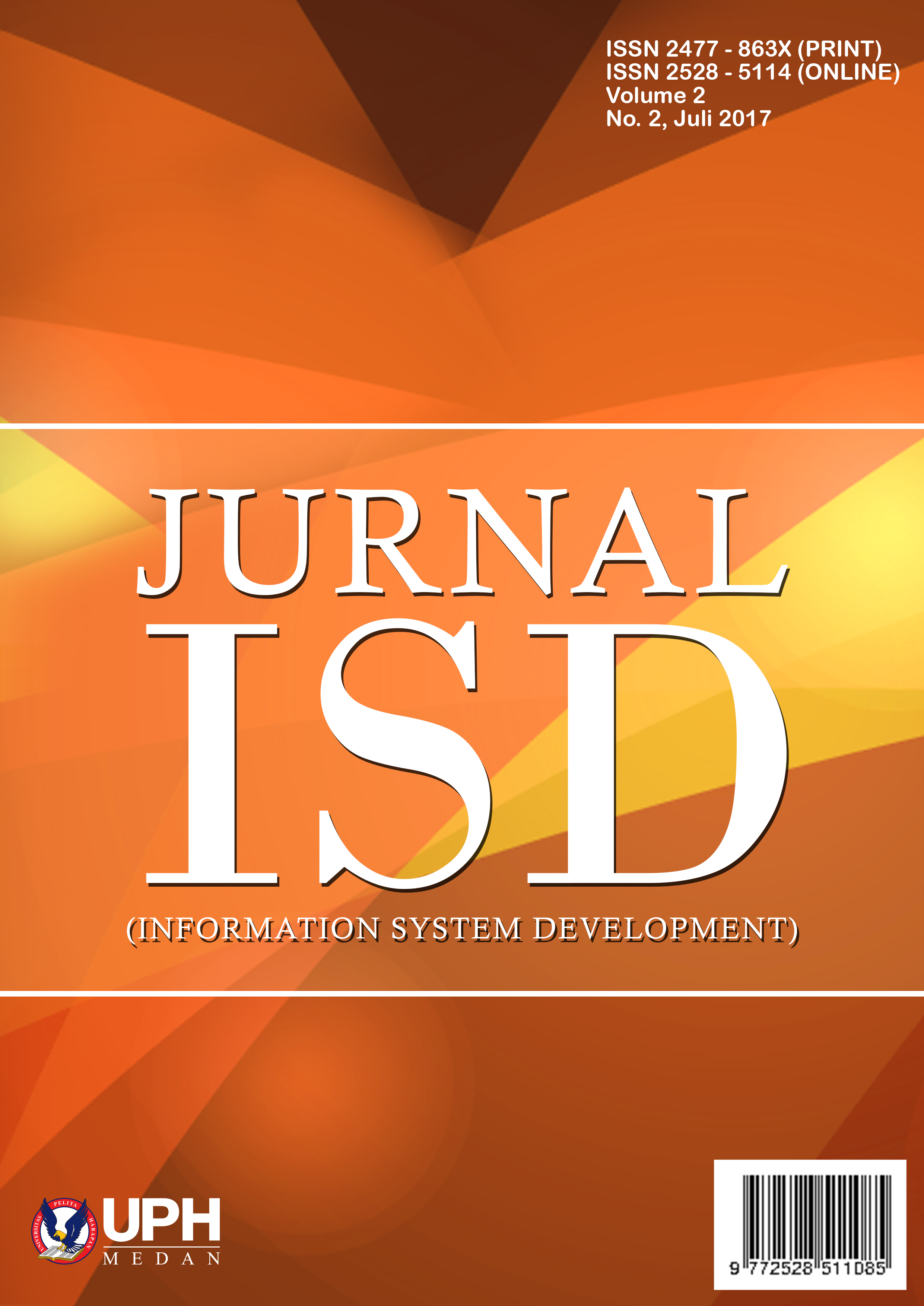 Downloads
Additional Files
License
Penulis yang menerbitkan jurnal ini menyetujui persyaratan berikut:
Penulis memiliki hak cipta dan memberikan hak untuk publikasi pertama jurnal dengan karya yang secara simultan dilisensikan di bawah Creative Commons Attribution License yang memungkinkan orang lain untuk berbagi karya dengan pengakuan kepengarangan karya dan publikasi awal dalam jurnal ini.
Penulis dapat membuat perjanjian kontrak tambahan yang terpisah untuk distribusi non-eksklusif versi jurnal yang diterbitkan dari karya tersebut (misalnya, mempostingnya ke repositori institusional atau menerbitkannya dalam sebuah buku), dengan pengakuan atas publikasi awalnya di jurnal ini.
Penulis diizinkan dan didorong untuk memposting karya mereka secara online (misalnya, dalam repositori institusional atau di situs web mereka) sebelum dan selama proses pengajuan, karena dapat menyebabkan pertukaran yang produktif, serta kutipan yang lebih awal dan lebih besar dari karya yang diterbitkan (Lihat Pengaruh Akses Terbuka).