MEWUJUDKAN PILKADA SERENTAK TAHUN 2020 YANG BERMARTABAT DI MASA PANDEMI COVID-19 DAN ERA DIGITAL
Ricky Banke

Universitas Pelita Harapan

Christina NM Tobing

Universitas Pelita Harapan

Christy Chandra

Universitas Pelita Harapan
Abstract
Simultaneous elections that will be held during the Covid-19 pandemic certainly have their own challenges that might disrupt the election process. The purpose of this study is to identify efforts that can be made to realize a dignified regional election during the pandemic and digital era. This research is a normative legal research, according to its purpose this research is a prescriptive analysis. The data used are secondary data in the form of laws and regulations, research results from survey institutions, theories and opinions of experts, the approach is conceptual. The results of the study show that elections in Indonesia are one of the pillars of Pancasila substantial democracy. In terms of legal certainty, social, political and economic aspects, the 2020 regional elections are urgent to implement despite the tough challenges during the pandemic. The success of the regional election with dignity, rests on Indonesian human resources, namely election stakeholders who always maintain the values ​​of Pancasila. Efforts that can be made to make it happen: All of the election stakeholders carried out massive digital socialization to the public about the urgency of the 2020 regional elections; The government and the KPU prepare a budget and strict Standard Operatinal Procedure (SOP); KPU and BAWASLU members ensure independence, professionalism, and dignified integrity; Avoiding conflicts of interest, racial, political and local election lawsuits, with a monitoring system through optimization of digital technology; Political party elites nominate competent, high integrity and dignified candidates for regional head; The campaign is carried out digitally, regional head candidates must show Pancasila political ethics contestation.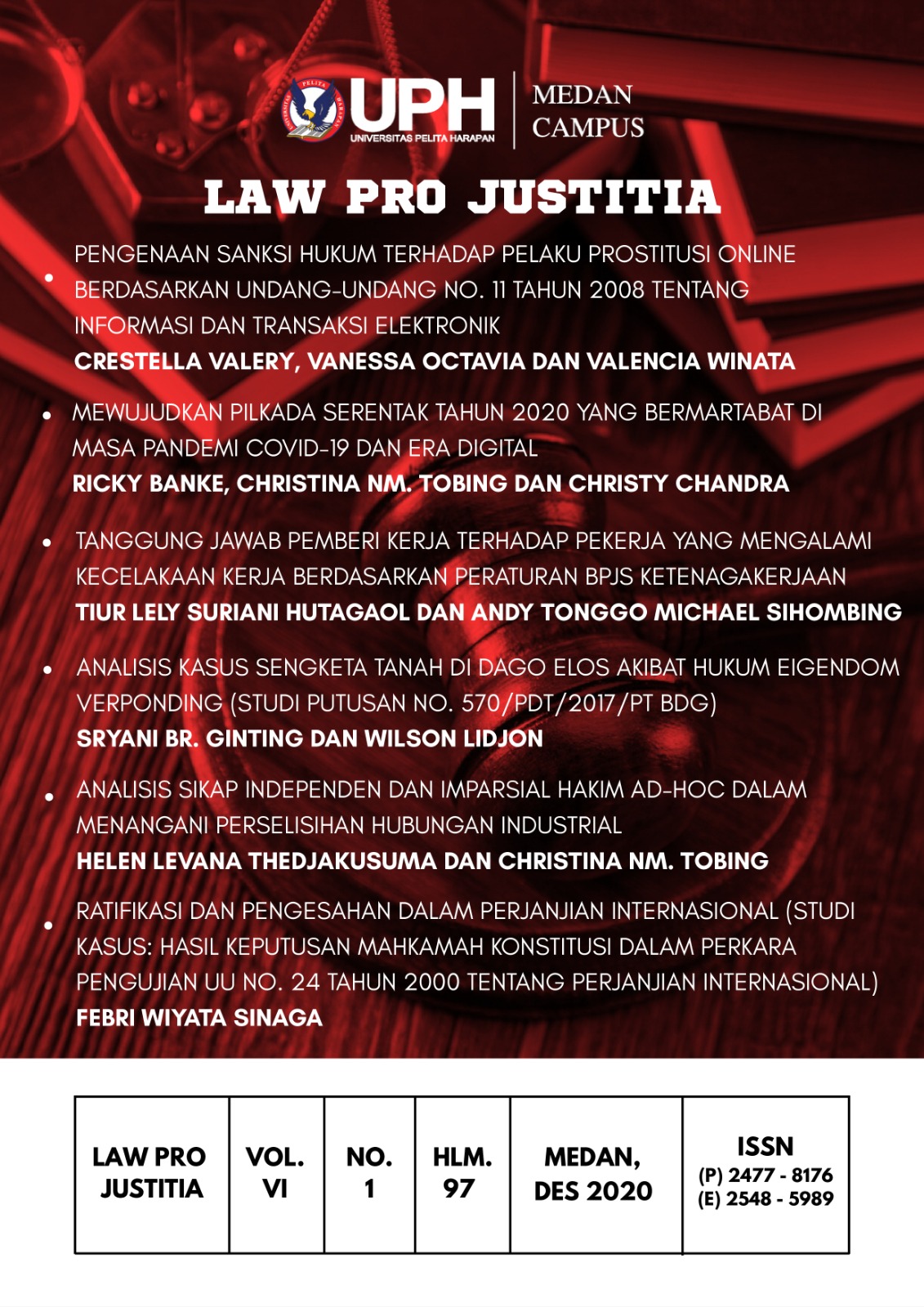 How to Cite
BANKE, Ricky; TOBING, Christina NM; CHANDRA, Christy. MEWUJUDKAN PILKADA SERENTAK TAHUN 2020 YANG BERMARTABAT DI MASA PANDEMI COVID-19 DAN ERA DIGITAL.
Law Pro Justitia
, [S.l.], v. 6, n. 1, p. 21-33, jan. 2021. ISSN 2447-8176. Available at: <
https://ejournal-medan.uph.edu/index.php/lpj/article/view/632
>. Date accessed: 28 may 2023.