ANALISIS PENGARUH VALUE CONSCIOUSNESS DAN PRICE QUALITY ASSOCIATION TERHADAP PRIVATE LABEL BRAND PURCHASE INTENTION DENGAN ATTITUDE SEBAGAI VARIABEL INTERVENING
Abstract
The retail business has grown quite rapidly from year to year and encourages retailers launch private label products to strengthen its competitiveness. This study aimed to analyze the influence of value consciousness and price-quality association towards private label brand purchase intention with attitude as intervening. This study used a sample of 210 respondents who are shopping at shopping centers such as Giant, Hypermart, and Carrefour. The statistical methods used in analyzing the data is a multiple regression model. Sampling technique used was convenience sampling technique. The research data that has been collected tested using the program Statistical Package for Social Sciences (SPSS) v.21. The results of this research show a positive influence value consciousness and price quality association of the private label brand purchase intention either directly or indirectly through attitude as intervening.

Keywords : private label brands, attitude, purchase intention, value consciousness, price-quality association.
References
Ailawadi, K., Neslin, S. A., and Gedenk, K. (2001). Pursuing the valueconscious consumer: Store brands versus national brand promotions. Journal of Marketing, 65(1), 71–89.

Augusty, Ferdinand (2006). Metode Penelitian Manajemen. Semarang: Badan Penerbit Universitas Diponegoro.

Assael, Henry (2001). Consumer Behavior 6th Edition. New York: Thomson-Learning.

Blattberg, R. C., and Neslin, S. A. (1990). Sales promotion: Concepts, methods, and strategies. (1st ed.). Englewood Cliffs, NJ: Prentice Hall.

Blattberg, R. C., and Wisniewski, K. J. (1989). Price-induced patterns of competition. Marketing Science, 18(4), 81–100.

Burton S, Lichtenstein DR, Netemeyer RG, Garretson JA. (1998). A scale for measuring attitude toward private label products and examination of its psychological and behavioral correlates. J Acad Market Sci 264:293–306.

Chandon et al., (2011). Consumer Choice of Private Label Brands in the French Market: Proposition and Test of a Partial Mediation Model, 10th International Conference Marketing Trends, Paris.

Cristina Widya Utami, 2006. Manajemen Ritel (Strategi dan Implementasi Ritel Modern); Jakarta: Salemba Empat.

Deveny, K. (1993). Bargain hunters bag more store brands. Wall Street Journal, April 15. pp. B1, B10.

Devlin J, Ennew C, McKechnie S, Smith A (2007). A study of time limited price promotions. J. Prod. Brand. Manage., 16(4): 280-286.

Dodds, W. B., Monroe, K. B., and Grewal, D. (1991). Effect of price, brand and store information on buyers' product evaluations. Journal of Marketing Research, 28(3), 307-319.

Engel, Jf, Blackwell, Rd and Miniard, Pw. (1995). Consumer Behavior. International Ed. Florida. Dryden.

Erdem, Tülin and Swait, Joffre (2004). Brand Credibility, Brand Consideration, and Choice. Journal of Consumer Research, Vol. 31, No. 1, 191-198.

Fishbein, M., and Ajzen, I. (1975) Belief, attitude, intention, and behavior: An introduction to theory and research. Reading, Mass.: Addison-Wesley.

Garretson, Judith A., Dan Fisher and Scott Burton (2002), Antecedents of Private Label Attitude and National Brand Promotion Attitude: Similarities and Differences, Journal of Retailing, 78 (2), 91–9.

Ghosh, A. (1990). Retail management. Chicago: Drydden press.

Ghozali, Imam, 2001, Aplikasi Analisis Multivariate Dengan Program SPSS (Edisi Kedua), Badan Penerbit Universitas Diponegoro, Semarang.

Glynn. M. S., and Chen. S (2009). Consumer-factors Moderating Private Label Brand Success: Further Empirical Results. International Journal of Retail and Distribution Management 37(11), 1-32

Grewal, Kent B. Monroe, and R. Krishnan. (1998). The Effects of Price Comparison Advertising on Buyers' Perceptions of Acquisition andTransactionValue. Journal of Marketing 62 (April): 46-59.

Hair, J. F., Anderson, R. E., Tatham, R. L., and Black, W. C. (1998) Multivariate Data Analysis. Prentice-Hall International, Inc., 5th Edition, Chapter 11.

Hair, et al. (2006). Multivariate Data Analysis 6th Ed. New Jersey: Pearson Education.

Hair, et al. (2010). Multivariate data analysis. 7th Ed. New Jersey: Pearson Education

Indriantoro, dan Supomo, (2013). Metodolodi Penelitian Bisnis untuk Akuntansi & Manajemen. Yogyakarta: Fakultas Ekonomika dan Bisnis UGM.

James J. Zboja, and Clay M. Voorhees (2006). The impact of brand trust and satisfaction on retailer repurchase intentions. Journal of Service Marketing, 20/5, 381-390

Keller, Kevin L, (2001). Building Customer Based Brand Equity: A Blue Print for Creating Strong Brands, Marketing Science Institute

Laroche, and Robert W. Sadokierski (1994). Role of Confidence in a Multi-brand Model of Intentions for a High Involvement Service. Journal of Business Research. 29 (January): 1-12.

Levy, H., and Guterman, H.G. (2012) Does advertising matter to store brand purchase intention? A conceptual framework. Journal of Product & Brand Management. 21(2), 89-97

Lichtenstein, D. R., Netemeyer, R. G., and Burton, S. (1990). Distinguishing coupon proneness from value consciousness: An acquisition-transaction utility theory perspective. Journal of Marketing, 54(July), 54–67.

Lichtenstein, D. R., Ridgway, N. M., and Netemeyer, R. G. (1993). Price perceptions and consumer shopping behavior: a field study. Journal of Marketing Research, 30, 234–245.

Liesse, J. (1993). Big name marketers are being stalked by strong, high quality store brands. Advertising Age, April 12. pp. 1, 4.

Likert RA. (1932). Technique for the measurement of attitudes. Archives of Psychology, 140 pp: 1-55

Lin, M. Y., and Chang, L. H. (2003). Determinant of Habitual Behavior for National and Leading Brand in China. Journal of Product and Brand Management. 12(2), 94-107.

Manzur E, Olavarrieta S, Hidalgo P, Farías P, Uribe R. (2011). Store brand and national brand promotion attitudes antecedents. Journal of Business Research 64(3): 286–91.

Martinez. E., and Teresa. M (2006). The effect of consumer's psychographic variables upon deal-proneness. Journal of retailing and consumer services, 13(3), 157-168

Martinez. E., and Teresa. M (2007). Characterisation of Spanish store brand consumer. International Journal of retail and Distribution Management, 36(6), 477-493

Palazon, M and Delgado, E. (2009). Effectiveness price discount and premium promotion. Journal of Physychology and marketing, 26 (December), 1108-1129

Retail Forward, 2010, Twenty Trends for 2010: Retailing in an Age of Uncertainty

Richard Thaler, (1985). Mental Accounting and Consumer Choice. Journal of Marketing Science, Vol 4(3), pp.199-214

Sawyer, Alan G. and Peter R. Dickson (1984), Psychological Perspectives on Consumer Response to Sales Promotion, in Research on Sales Promotions: Collected Papers, Katherine E. Jocz, ed. Cambridge, MA: Marketing Science Institute, 1-21.

Sinha. I and Batra. R (1999). The effect of consumer price consciousness on private label purchase International Journal of Research in Marketing vol 16: 237–251

Sugiyono, (2008), Metode Penelitian Kuantitatif, Kualitatif dan R & D, Bandung: CV. Alfabeta.

Sugiyono. (2009). Metode Penelitian Kuantitatif dan Kualitatif. Bandung: CV. Alfabeta.

Völckner and Hofmann (2007). The price-perceived quality relationship: A meta-analytic review and assessment of its determinants. Institute of Marketing and Media, 18:181–196

Walsh, J.C., Wilson, K.A., Benshemesh, J. and Possingham, H.P. (2012). Unexpected outcomes of invasive predator control: the importance of evaluating conservation management actions. Anim. Conserv. 15, 319–328.

X. Xie and S. Chaipoopirutana (2014). A Study of Factors Affecting Towards Young Customers' Purchase Intention of Domestic-Branded Smartphone in Shanghai, Republic of China. International Conference on Business, Law and Corporate Social Responsibility Oct 1-2.

Y. Köksal and O. Spahiu (2014). The efficiency of monetary and non-monetary sales promotions on brand preference: a case of Albanian GSM companies. Journal of the School of Business vol 43(2): 319-331

Zeithaml, V. A. (1988). Consumer perceptions of price, quality, and value: a means-end model and synthesis of evidence. Journal of Marketing, 52(July), 2–22.

Zielke, S. and Dobbelstein, T. (2007), Customers' willingness to purchase new store brands, Journal of Product & Brand Management, Vol. 16 No. 2, pp. 112-21.

Survei Nielsen: Private Label Makin Dilirik, posted on 3 December, 2014 by Siti Sumaryati from
http://swa.co.id/swa/trends/business-research/survei-nielsen-private-label-makin-dilirik

Aprindo Memperkirakan Pertumbuhan Industri Retail 12%, posted on 31 March, 2015 by Derry Sutardi from http://radarpena.com/read/2015/03/31/17425/18/1/Aprindo-Perkirakan-Pertumbuhan-Industri-Retail-12

Pasar Ritel Terus Tumbuh, posted on March 28,2011 by Andri Arianto from http://www.batamtoday.com/ftznews/detail_berita.php?id=2655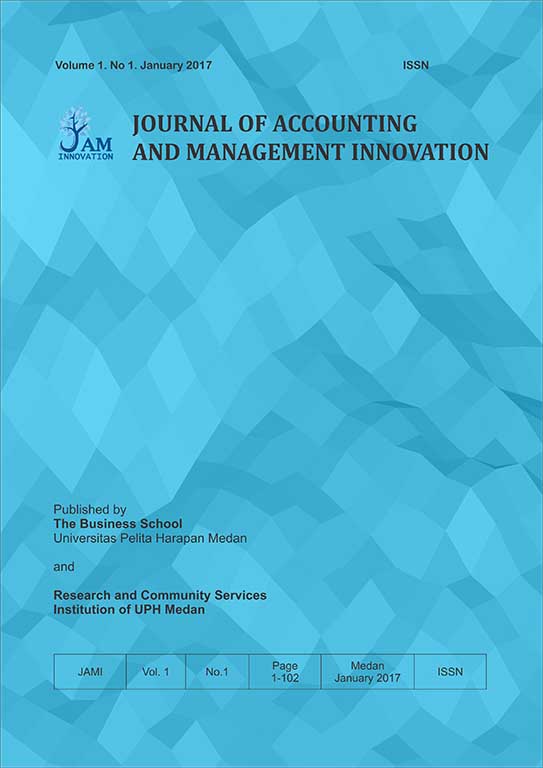 Downloads
License
JAMI has CC-BY-SA or an equivalent license as the optimal license for the publication, distribution, use, and reuse of scholarly work.
An author who publishes in  Journal of Accounting and Management Innovation agrees to the following terms:
1) Authors retain copyright and grant the journal right of first publication with the work simultaneously licensed under a Creative Commons Attribution License (CC-BY-SA 4.0) that allows others to share the work with an acknowledgement of the work's authorship and initial publication in this journal.
2) Authors are able to enter into separate, additional contractual arrangements for the non-exclusive distribution of the journal's published version of the work (e.g., post it to an institutional repository or publish it in a book), with an acknowledgement of its initial publication in this journal.
3) Authors are permitted and encouraged to post their work online (e.g., in institutional repositories or on their website). The final published PDF should be used and bibliographic details that credit the publication in this journal should be included.