ASSESSMENT ON EVENT MANAGEMENT SERVICE COMPETENCIES OF SELECTED EVENT MANAGERS IN TAGUIG CITY
Abstract
The aim of the study is to assess the level of events management service competencies of selected event managers in Taguig City, to see if they conform with the standards of Technical Education and Skills Development Authority (TESDA) which utilizes the Mutual Recognition Arrangement (MRA) Competency Based Curriculum National Certificate Level III for Events Management. The study used a quantitative research method that generates numerical data. This research used descriptive research design to describe characteristics of a population or phenomenon being studied. The study used purposive sampling technique which is a type of non-probability sampling that is most effective when one needs to study a certain cultural domain with knowledgeable experts with. Based on the study, the event managers of the selected event companies that was assessed based on the competencies of events management and services in terms of Plan and Develop Event Proposal and Bid, Develop an Event Concept, Develop an Event Program, Select Event Venue and Site, Develop and Update Event Industry Knowledge, Provide On-site Event Management Services, Develop and Update Knowledge on Protocol and Manage Contractors for Indoor Events was competent. The research focused only on the events managers and their clients in selected event companies in Taguig City.
Keywords: events management, competency-based, event concept, event industry, event manager
References
Erasmus, B., Swanepoel, B., Shenk, H., Van der Westhuizen, E., & Wessels, J. (2010). South African Human Resource Management for the Public Sector.

Burch, N. (n.d.). Four Stages of Competence.
Business and Finance Human Resources (n.d.) University of Nebraska-Lincoln

Kamen, C., Veilleux, J., Bangen, K., and Vanderveen, J. (2010). Climbing the Stairway to Competency Trainee Perspectives on Competency Development.

Dubois, D., and Rothwell, W., (2004). Competency-Based Human Resource Management.

Ex-link Events. (2019). Who is the Event Manager| Event Management Philippines.

Martinkienė, J. & Bakanauskienė, I. (2011). "Determining Managerial Competencies of Management Professionals: Business Companies Managers' Approach in Western Lithuania".

Park, K. & Park, S. (2016). Topic Trend of Event Management Research.

Ramsborg, M., Breiter, R., Rushing, A. (2008), Professional meeting management: Comprehensive strategies for meetings, conventions and events, 5th ed, Kendall/Hunt Publishing, Dubuque, Iowa.

Shone, A., & Parry, B. (2013) Successful Event Management.

Smith, E. (2017). "The Key to Successful Event Planning: A Case Study on Identifying the Most Appropriate Model of Event Planning".
Technical Education and Skills Development Authority. (n.d.). Training Regulations.

William, D. (2013). Assessment Between Teaching and Learning.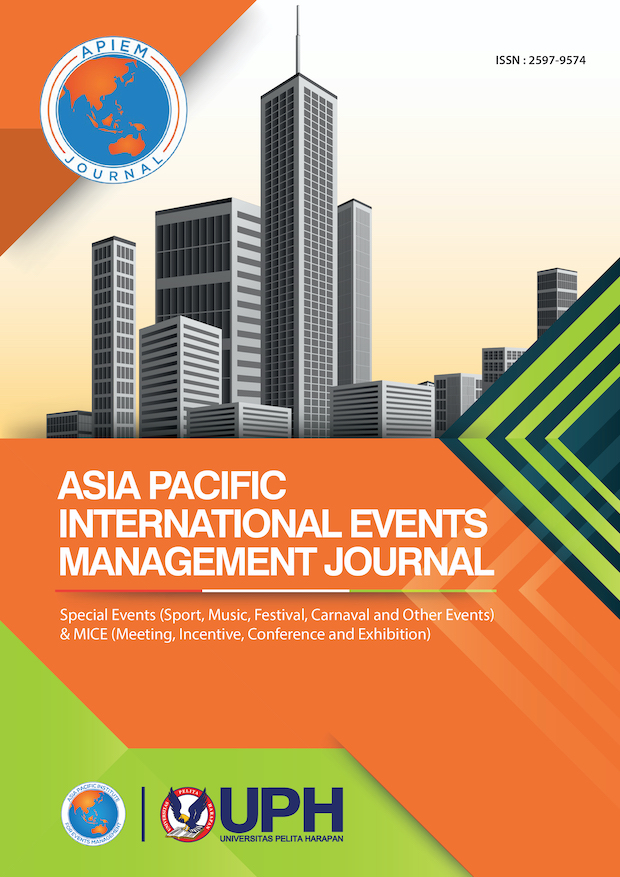 Downloads