ASLAG PARUL AS A SIGNATURE COLLEGE FESTIVAL OF THE CITY COLLEGE OF ANGELES: PROMOTING LOCAL CULTURE AND EXCELLENCE IN EVENTS MANAGEMENT
Abstract
One of the global trends is putting emphasis and importance to cultural heritage as an essential element of society. In the City of Angeles in the Philippines, a century-old tradition of lantern making has made a mark in the community's cultural image. The industry of lantern making in the city is highly associated with the Christmas season and the annual Lubenas ning Pasku, a nine-night religious procession of the Catholic in reverence for the birth of Jesus. As a community college, City College of Angeles (CCA) conceptualized a school-based festival to promote and preserve the lantern making tradition of the city. Aslag Parul Festival primarily aims to make students aware and knowledgeable on the lantern making tradition of the community and later make them guardians and transmitters of the culture. This paper aims to present the process of conceptualization, preparations, activities, outputs, challenges, and lessons learned during the premiere of the Aslag Parul Festival. It also aims to present the individual and collective contributions of the stakeholders in producing the said event. This qualitative research utilized several data collection strategies such as interviews, literature and document reviews, observation, and photo and video documentation of the festival. After the pertinent data have been collected, the research shows that 1) all people in charge of all aspects of the event played significant roles and worked efficiently in teams, 2) the festival was composed of two parts – a) workshops on lantern making and festival dance and b) the festival competition, 3) financial constraints can be addressed by looking and partnering with benefactors, and 4) through collective works, the school community can produce a rich and festive event. It also revealed that the festival as a cultural and extra-curricular event reflects a number of United Nations Sustainable Development Goals. In conclusion, this research affirms that education is one of the most influential social institutions for cultural promotion and transmission. Hence, cultural activities can be innovatively promoted and transmitted through events management.
 
Keywords:
local culture, school-based event management, cultural promotion
References
Bezur, A., Lee, L., Loubser, M., & Trentelman.
(2020). Handheld xrf in cultural heritage: A
practical workbook for conservators. Los Angeles: J. Paul Getly Trust and Yale
University.

Kottak, C. P. (2009). Cultural anthropology. (12th
Ed.). New York: McGrac Hill.

McLeod, S. (2019). What's the difference between
qualitative and quantitative research?.
https://aus.libguides.com/apa/apa-website.

Miller, B.D. (2005). Cultural anthropology. (3rd
Ed.). Singapore: Pearson Educational Inc.
Ordinance No. 417, Series of 2017 by the
Sangguniang Panlungsod (City Council) of Angeles
City or the Ordinance Declaring "Angeles Traditional Parul" and "Lubenas ning Pasku" as Intangible Cultural Heritage of Angeles City and Establishing Systems and Policies in Safeguarding, Providing for Mechanism of Implementation and for Other Related Purposes

United Nations. (n.d.). Sustainable development
goals. https://www.un.org/sustainabledevelopment/sustainable-development-goals/
United Nations Educational, Scientific and Cultural

Organization. (n.d.). Performing arts (such as traditional music, dance and theatre).
https://ich.unesco.org/en/performing-arts-00054

United Nations Educational, Scientific and Cultural Organization. (n.d.) Social practices, rituals and festive events. https://ich.unesco.org/en/social-practices-rituals-and-00055
United Nations Educational, Scientific and Cultural

Organization. (n.d.). Traditional craftsmanship
https://ich.unesco.org/en/traditional-craftsmanship-00057
United Nations Educational, Scientific and Cultural

Organization. (n.d.). What is intangible cultural heritage? https://ich.unesco.org/en/what-is-intangible-heritage-00003

Zerrudo, E. B. (2020). E-pamanang turismo heritage
and development (biglang bumida si
COVID10) how na?. Presented during the Department of Tourism Online Learning
on May 7, 2020.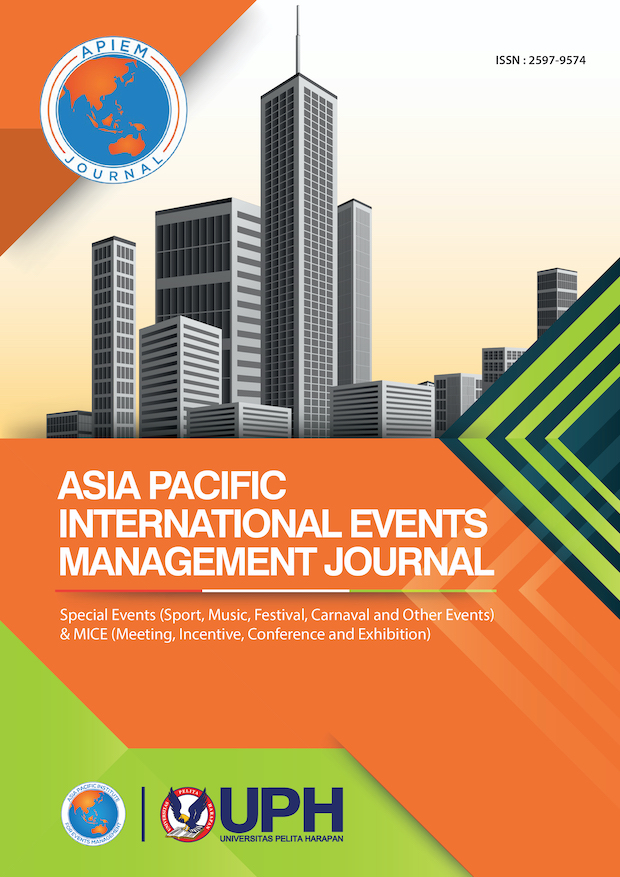 Downloads